Press and move to zoom
Mouse over image to zoom
APP CHICKEN CHAO W HERBS ON SUGAR CANE, 200 PCS
Product code :852002
1 box: 200 pcs; 1.4 oz/39.7 g ea

Chicken thigh meat mixed with fresh herbs, green onions, ginger, and water chestnuts with panko breading on a Hawaiian sugar cane stick.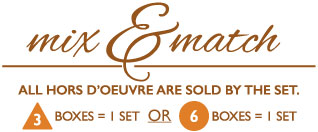 Deep fry from frozen at 350°F for appx. 2 minutes or until golden brown then bake at in a 350°F convection oven for 10-12 minutes until internal temperature must reach 165°F as measured by a thermometer.

Suggested accompaniments: Peanut and Plantain Sango Sauce
Customers Who Bought This Item Also Bought...