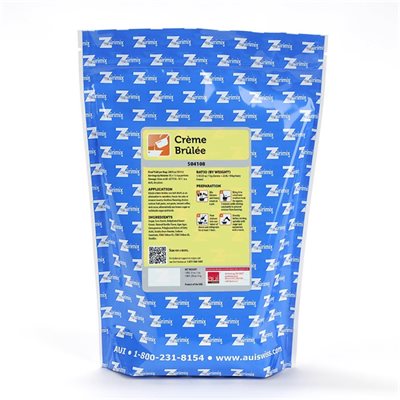 Press and move to zoom.
Mouse over image to zoom.
CREME BRULEE
Product Code: 504108
Rich custard and vanilla flavor with a full-bodied texture and a smooth, velvety mouthfeel.

1 box: 6 bags; 35 oz/1 kg each

Ratio (By Weight): 1:10 (35 oz/1 kg Zürimix + 22 lbs/10 kg Heavy Cream)
Final Yield per Bag: 368 fl oz (10.9 L)
Servings by Volume: 92 × ½ cup portions
Freeze-stable.
Net Weight: 13.23 lbs
Shelf Life: 365 Days
Recommended Storage: Dry/Ambient

Ingredients:
Powdered Sugar (Sugar, Corn Starch), Dehydrated Sweet Cream, Natural Vanilla Flavor, Agar Agar, Carrageenan, Polyglycerol Esters of Fatty Acids, Vanilla Bean Powder, Sodium Caseinate, FD&C Yellow 5, FD&C Yellow 6

Country of Origin: USA
Preparation:
Mix Zürimix and heavy cream in a pot.
Bring to a boil over medium heat for approximately 1 minute while stirring constantly to prevent mixture from burning.
Pour mixture into container of choice and refrigerate for at least 1 hour.
Directly before serving, sprinkle with sugar and caramelize with a torch.
Application:
Crème Brûlée; add any flavoring of choice
Advantages:
Easy to use; ideal for airlines and institutional markets; freeze stable; light and refreshing dessert; simple to make yet versatile in use; heavy cream combination results in a smooth creamy brûlée; vary flavor with Frutta Prima fruit compounds
Customers Who Bought This Item Also Bought...