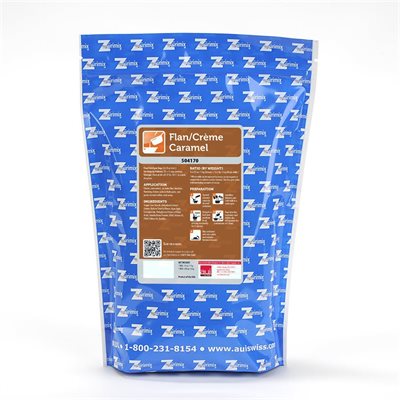 Press and move to zoom
Mouse over image to zoom
FLAN / CREME CARAMEL
Product code :504170
Classic cream and vanilla flavor with a silky mouthfeel and a light yet firm consistency that is perfect for molding.

1 box: 6 bags; 35 oz/1 kg each

Ratio (By Weight): 1:6 (35 oz/1 kg Zürimix + 13.1 lbs/6 kg Whole Milk)
Final Yield per Bag: 222 fl oz (6.6 L)
Servings by Volume: 55 x ½ cup portions
Freeze-stable if made with half and half.
Preparation:
Spread caramel sauce in desired container.
Combine Zürimix and cold milk in a sauce pan.
Bring to a boil over medium heat, stirring constantly for 1 minute.
Pour into the container and chill in the refrigerator for a minimum of 1 hour.
Flip container over on a plate and remove finished dessert.
Net Weight: 13.23 lbs
Shelf Life: 365 Days
Recommended Storage: Dry/Ambient

Ingredients:
Sugar, Corn Starch, Dehydrated SweetCream, Natural Vanilla Flavor, Agar Agar,Carrageenan, Polyglycerol Esters of FattyAcids, Vanilla Bean Powder, FD&C Yellow #5, FD&C Yellow #6, Vanillin.

Country of Origin: USA
Preparation:
1:6 (35 oz / 1 kg Zürimix + 13.1 lb / 6 kg Whole Milk) *

Application:
Classic, convenient, no-bake flan; limitless flavoring choices such as fruit paste, nut paste, instant coffee, and cocoa.

Advantages:
Easy to use; ideal for airlines and institutional markets; freeze stable; light and refreshing dessert; simple to make; vary flavor with N.U.T. Nut Pastes or Frutta Prima Fruit Compounds