Home

>

PASTRY CREAM, COLD PROCESS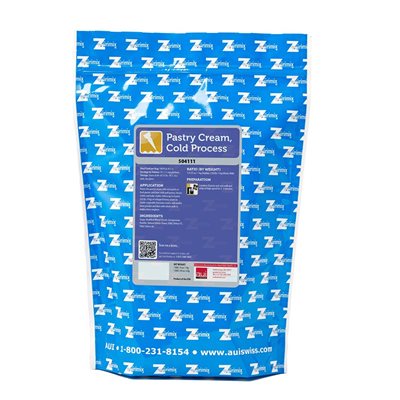 Press and move to zoom.
Mouse over image to zoom.
PASTRY CREAM, COLD PROCESS
Product Code: 504111
Clean, sweet vanilla and custard flavor with a refined, silky, and glossy texture that melts on your tongue; a fast and easy-to-make custard that does not contain eggs.

1 box: 6 bags; 35 oz/1 kg each

Ratio (By Weight): 1:4 (35 oz/1 kg Zürimix + 8.8 lbs/4 kg Whole Milk)
Final Yield per Bag: 140 fl oz (4.1 L)
Servings by Volume: 35 x ½ cup portions
Bake-stable and freeze-stable.
Net Weight: 13.23 lbs
Shelf Life: 365 Days
Recommended Storage: Dry/Ambient

Ingredients:
Powdered Sugar (Sugar, Corn Starch), Modified Wheat Starch, Carrageenan, Vanillin, Natural Butter Flavor, FD&C Yellow 5, FD&C Yellow 6

Country of Origin: USA
Preparation:
Combine Zürimix and cold milk and whip for 3 to 5 minutes at high speed.
Application:
Classic pastry cream base; add any flavoring of choice and/or whipped heavy cream, freeze stable, bake stable if no whipped heavy cream is added
Advantages:
A fast, easy-to-make custard filling provides time and labor savings. Freeze stable; no cooking needed; contains no eggs; made from scratch taste; bake proof; extremely versatile; great alternative to Bavarian cream; use skim milk for a fat free dessert; lasting aroma and flavor
Customers Who Bought This Item Also Bought...